As the digital currency market matures, a number of financial moguls, some of them former crypto skeptics such as George Soros as well as the Rockefeller family, are beginning to take positions in this burgeoning asset class.
This is of course the same George Soros who, back in January during a speech he gave at the World Economic Forum in Davos, called cryptocurrencies a bubble. Earlier this week, however, Bloomberg reported that the family's $26 billion Soros Fund Management is planning to trade digital assets.
The Rockefeller family's venture-capital arm "Venrock" is taking a different tack. Venrock has partnered with CoinFund to help entrepreneurs launch blockchain-based businesses. Earlier this month, Venrock partner David Pakman told Fortune, "We wanted to partner with this team that has been making investments and actually helping to architect a number of different crypto economies and crypto token-based projects."
These new participants are not going unnoticed by the crypto community. Charles Hoskinson, the CEO of Cardano tweeted: "Rockefeller, Soros, and Rothschild money entering the cryptocurrency space….it sounds like regulations might be getting a bit more lax."
It should be noted that though Hoskinson got it right about the Rockefeller and Soros families, the 'Rothschild money' he refers to was actually a stake in Bitcoin Investment Trust (OTC:GBTC) taken by the Rothschild Investment Corporation in 2017, which stirred up market excitement till it was made clear that the firm had no relationship to the Rothschild family.
Could Warren Buffet be next to jump on the crypto band wagon? He went on record in January saying he believed 'they will come to a bad ending,' but then Soros wasn't originally a fan either.
As more and more traditional institutional investors enter crypto what might that mean for the asset? Many would like to see prices heading back toward the heady numbers seen at the end of 2017. At the moment, however, the most popular tokens such as Bitcoin, Ethereum and Ripple haven't seen a boost. Indeed, former high-flyer BTC is currently trading below $7,000, Ethereum is barely above $400 and Ripple is a hair below 0.51 at time of writing.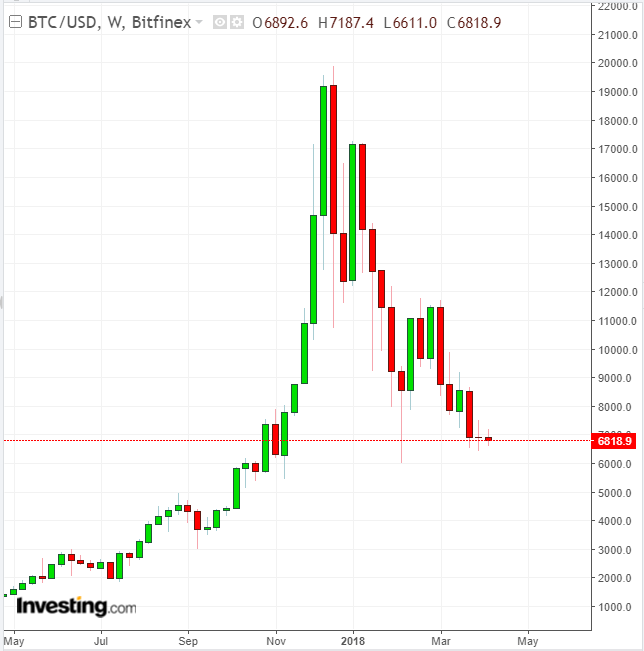 BTCUSD Weekly
David Siegel, CEO and founder of The Pillar Project, explains that we are still in a period of regulatory uncertainty for the U.S. and Europe. He thinks it will be resolved either in favor of free markets or in favor of regulators "clamping down" and putting crypto-assets into boxes regulators, and thus investors, know well.
"If regulators state that they are going to let the market sort it out, previous investors will come back in and we'll once again be on the way to $1 trillion in crypto assets. If, on the other hand, regulators bring most crypto-assets into the current regulatory frameworks, then I believe many institutional investors like Soros, pension funds, large hedge funds, and others will start to enter the market, making a multi-trillion-dollar splash."
Gabriele Giancola, co-founder and CEO of qiibee, adds that financiers such as the Rockefellers and Soros are serious legacy names. Their involvement in the crypto space is a positive thing as they signal trust and confidence in the asset class to smaller investors. They wouldn't get their hands dirty if they didn't think there was a massive amount of money to be made in the space.
John Frazer, Co-founder and Chief Communications Officer of DAV Foundation, a blockchain-based transportation platform, says these players have undoubtedly been watching the crypto space for a few years now, looking for the right time to enter. He says:
"If Soros is investing now, crypto will have met a list of criteria at his fund. This telegraphs that he feels there is significant profit to be made in the space. As more high-profile investors like Soros enter the crypto market, the more risk-averse institutions that represent trillions of dollars such as sovereign funds will begin eyeing the returns that this new asset class could provide. At that point crypto will experience a profound transformation in terms of usage and value."
"Smart, respected institutional investors" are recognizing that now is a great time to enter the market and buy, notes Mick Hagen, CEO and Founder of Mainframe, a messaging layer for the new web. He believes this is a great thing overall, because more institutional capital is getting exposure to blockchain technology which could in turn fuel more innovation, bringing yet more funding with it.
It's clear that traditionalists like Soros, who have been publicly dismissive of digital currencies, are now backpedaling, points out Darvin Kurniawan Co-founder and CEO of Crowdvilla. His theory: it's an effort to try to stay relevant in a rapidly changing financial world.
But why the sudden interest? Kurniawan believes the cryptocurrency market may be appealing to big investors like Soros looking to turn a profit, but it represents so much more than that; it's a chance to invest in a future world economy that is inclusive, fair and values community.
"Having major players like Soros enter the cryptocurrency space is vindication for those of us in the community who have for years believed in the transformative potential of digital assets. It's clear that these incumbents are finally catching on – the great potential that cryptocurrencies hold can no longer be ignored."
Some see this shift as a sign that now is the best time to enter this market. Noel Chandler, Co-founder and CEO of Clinicoin says he believes that's why Soros has suddenly shifted his stance. "What this means for the crypto market at large is simply more validity from large traditional players, providing more evidence that cryptocurrencies are here to stay." he adds.
Rank
Site
Location +currency
Buy
with…
Score
1
London, UK

USD

CFD

+ bank transf.

+ card

+ paypal

+ webmoney

9.85
2
San Fran, USA

USD EUR GBP

+ bank transf.

9.80
3
Limassol, Cyprus

USD EUR

CFD

+ bank transf.

+ card

9.75
4
local

all currencies

+ paypal

+ bank transf.

9.55
5
London, UK

USD EUR GBP RUB

+ bank transf.

+ Ethereum

9.50
6

cryptocurrency exchange

Prague, Czech Rep.

35+ crypto pairs


CRYPTO- CURRENCY

+ credit card

8.65
8

cryptocurrency exchange

Shanghai, China

30+ crypto pairs


CRYPTO- CURRENCY
8.60
9

cryptocurrency exchange

Copenhagen, Denmark

25+ crypto pairs


CRYPTO- CURRENCY
8.30