Have you ever considered mining Bitcoin? With approximately 80% of the world's Bitcoin supply already mined, you may be wondering whether or not mining Bitcoin remains a way to turn a nice profit.
Coinrate has the answer to that question. The cryptocurrency market explorer has just released an interactive map showing the profitability of mining Bitcoin around the globe. The map currently contains information for a total of 131 countries, with profitability refreshed by the minute.
Mining costs are calculated according to Bitcoin's most popular miner, the Antminer S9. Daily profitability is determined using data such as Bitcoin's current price, blockchain hashrate, blockchain fees, S9 Antminer hashrate and its electricity consumption, and more.
What can you learn from this map?
Use this map to find out:
Why mining is more developed in certain countries but not in others
Whether or not mining is a profitable endeavour in your country
How much money per day you can make by mining
Exploring Mining Profitability
What makes this map truly unique is that you can see profitability refresh right before your eyes and know the information is up to date. The color-coded map key allows you to see the countries with the cheapest and most expensive electricity prices for mining 1 Bitcoin. Countries colored gray mean data was unavailable for this region.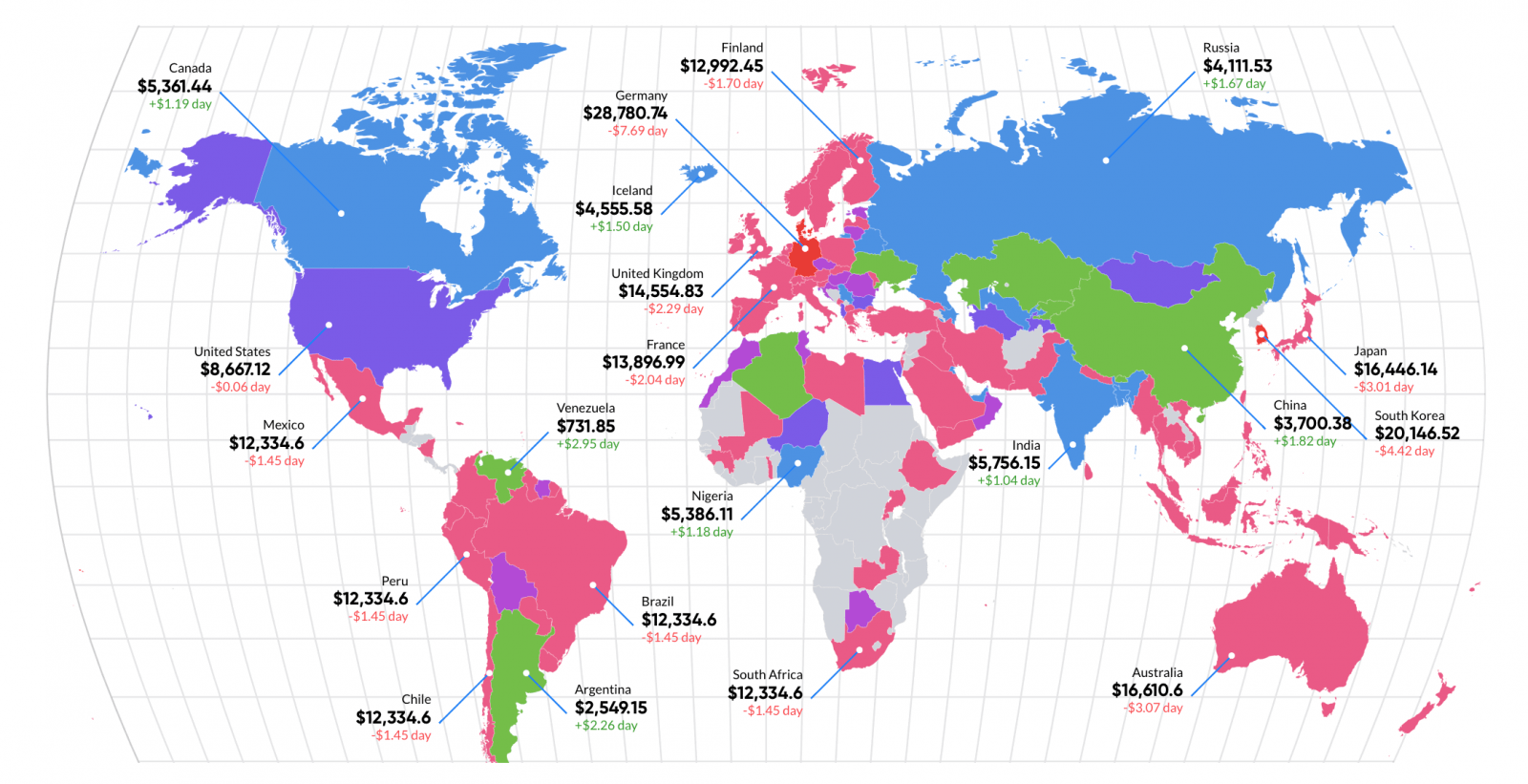 Information for the countries featured includes the current cost of mining 1 Bitcoin and how much money, if any, you can earn by mining there. Numbers in green indicate a profit, while numbers in red denote losses.
At the time of writing, the most expensive countries to mine Bitcoin include South Korea ($19,587 per Bitcoin), Denmark ($24,384), Germany ($27,982), all of which would put miners in the red.
Meanwhile, the cheapest countries for mining are Argentina ($2,478), Algeria ($2,398), and Venezuela ($711). Since mining Bitcoin uses up a lot of electricity, it makes sense that the countries offering the cheapest electricity are ranked among the most profitable.
Aside from providing the latest updates on mining profitability, the map comes with an informative article detailing all the important factors potential miners should consider before diving into mining, including the discussion surrounding the issues with energy consumption.
Whether or not you want to start mining Bitcoin yourself, the map is definitely worth a glance. It is remarkable to see how profitability fluctuates from one moment to the next. Without a doubt, this map can prove to be a great informative tool for Bitcoin miners and enthusiasts alike.
NOTE: This article is not an investment advice. Any references to historical price movements or levels is informational and based on external analysis and we do not warranty that any such movements or levels are likely to reoccur in the future
GENERAL RISK WARNING
The financial services provided by this website carry a high level of risk and can result in the loss of all your funds. You should never invest money that you cannot afford to lose.
Rank
Site
Location +currency
Buy
with…
Score
1
London, UK

USD

CFD

+ bank transf.

+ card

+ paypal

+ webmoney

9.85
2
San Fran, USA

USD EUR GBP

+ bank transf.

9.80
3
Limassol, Cyprus

USD EUR

CFD

+ bank transf.

+ card

9.75
4
local

all currencies

+ paypal

+ bank transf.

9.55
5
London, UK

USD EUR GBP RUB

+ bank transf.

+ Ethereum

9.50
6

cryptocurrency exchange

Prague, Czech Rep.

35+ crypto pairs


CRYPTO- CURRENCY

+ credit card

8.65
8

cryptocurrency exchange

Shanghai, China

30+ crypto pairs


CRYPTO- CURRENCY
8.60
9

cryptocurrency exchange

Copenhagen, Denmark

25+ crypto pairs


CRYPTO- CURRENCY
8.30
Past performance is not an indication of future results. Also, leveraged products can carry a high degree of risk. eToro offers protective measures to manage risk effectively, but in rare occasions it is possible to lose more money than invested. This content is for information and educational purposes only and should not be considered investment advice nor portfolio management.